Paula Lozano
Psychologist and Yoga teacher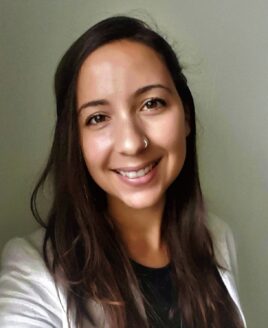 Hej,
My journey on health and well being started more than ten years ago.
In 2016 I graduated in Psychology from a cognitive behavioral approach at the Autonomous University of Madrid, Spain, where I come from. Before and during my whole studies I was always interested in people's health and well being. However, it was not until the end of my studies that I found yoga to be a therapeutical practice to heal physically and emotionally and improve people's life.
After years of self practice and having experience what yoga can do for people's physical and mental well being, I found my path to help others live a healthier, happier life through yoga. And in 2016 I certified as a hatha yoga instructor by Yoga Alliance at YogaCenter in Madrid, Spain. Since, I have dedicated myself to deepen in the understanding of the asana practice, yoga anatomy, philosophy, meditation and pranayama techniques and its deep relation with the human psychology and behavior; travelling abroad, deepening my studies and holding yoga courses .
Nowadays, I live and work in Linköping, where through an integration of all my studies and professional experience and expertise I work to improve other people's health and life.
Psychotherapy  is a space to explore how do you experience the world and what is the connection between your behaviors, thoughts and emotions to understand what is causing discomfort in your life. On the same line, the practice of yoga  as a psycho-physical practice is a powerful tool. It is per se a gate into the mind; an experience that begins with the body and gently allow us to observe and understand deeply into ourselves, bringing  awareness to the connection between our emotions, thoughts and body.
Life is a journey, and sometimes along the way we may face difficulties and discomforts.
In a therapy session you find a kind hand you can hold when you need guidance and help.This is a process of self-growth and discovery. A space for you. Here, we create together a comfortable environment where  we can understand your needs and together we find the best way to approach your process.
As a yoga teacher and psychologist I offer you my hand and professional expertise to walk by your side when you need me, until you are ready to walk it your self.
I believe in adapting the practice to everyone's unique condition, physically and emotionally. Therefore trough and holistic approach I intend to offer guidance and support to  my students and patients through their personal journey and to understand the interconnection between our physical, emotional and intellectual body.
I value each and every person who joins my class and I look forward to helping you achieve your wellness goals.
Welcome!
Mail: Paula@halsocompaniet.se
Telefon: 013-10 05 90
Boka en behandling hos Paula Lozano